Over 2,500 paddlers are expected to compete at the 2017 Queen Liliuokalani Long Distance Outrigger Canoe Races. Paddlers and visitors alike will be welcomed at the Historic Kailua Village when the world's largest long distance outrigger canoe race gets underway over Labor Day Weekend—August 31st to September 4th.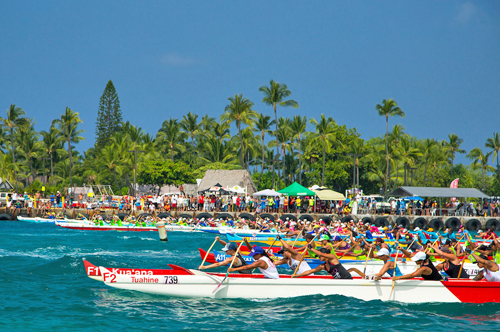 One of Hawaii's oldest outrigger canoe clubs, Kai 'Opua Canoe Club, will host crews from American Samoa, Australia, Canada, Hong Kong, Japan, New Zealand, Singapore, Tahiti, and United Kingdom. Some estimated 75-plus crews from the US will be attending with the Big Island of Hawaii representing the majority of more than 60 crews.
There will be two new events debuting on the Labor Day weekend schedule: Royal Splashfest – a competition to see who can cannonball off Kailua Pier with the largest splash; the Kupuna Classic – 50 and 55-year old mixed crews take the canoe from Kailua Bay to Keauhou and the 60, 65, and 70-year old mixed crews bring the race back to Kailua Bay.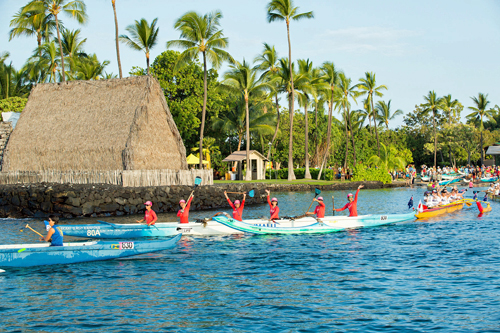 There is a race for everyone throughout the Labor Day holiday weekend including Hulakai OC4 (4-person crew) Sprint Relay Race, one and two-person canoe races, SUP, teen, and the always exciting double hull canoe race. You can check out detailed race schedule here.
Other official Queen Lili'uokalani Canoe Race events unfold throughout the holiday weekend including Historic Kailua Village Cultural Walk, Talk Story, Cultural Fair featuring Artisans and Cultural Practitioners, Torchlight Parade, and the Queen Lili'uokalani Canoe Race Luau.
For more information about the 2017 Queen Liliuokalani Long Distance Outrigger Canoe Races, please visit www.qlcanoerace.com.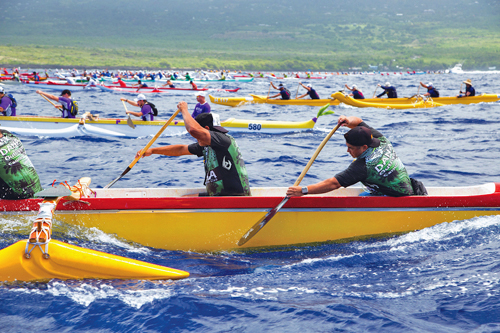 All event photos by Queen's Race/Charla Photography.