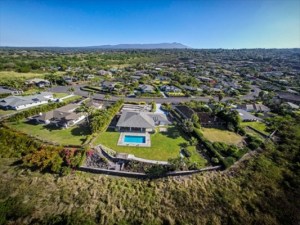 When you are searching for some beautiful Big Island scenic drives, you cannot pass up these top three. Hawaii is full of memorable roads and unforgettable trails. As you search for your perfect home, take a trip down these roadways and fall in love with the Big Island!
Mauna Loa Road (Volcano Village)
Distance: 11.5 miles (one way)
Follow highway 11 coming west from Volcano Village on your way to Kona. Drive towards the mountain at the posted exit to Mauna Loa road located between mile markers 30 and 31. Mauna Loa road is a gorgeous climb on the slopes of Mauna Loa above the Kilauea Volcano. This road takes you across lava flows and through lush Koa forests, stopping at a great trailhead. This drives is a great overview of some of the beauty Hawaii is known for.
Kapoho Kalapana Road
Distance: 14 miles
You can find this great drive on Highway 137 between mile markers 8 and 22. This is one of the more exciting scenic drives as it goes through the unique tree tunnels in the Puna district. You pass by a few beaches and hot ponds that can make great day trips on their own. Bring a lunch and stop along the way for breathtaking views!
Pepe'ekeo Scenic Drive
Distance: 4 miles
You can find this amazing drive if you take highway 19 north of Hilo. Between mile marker 7 and 8, take a right turn that is marked as a scenic drive. The Pepe'ekeo (also known as the Onomea bay) scenic drive is one of the most popular drives on the Big Island. A long four mile stretch of picturesque highway that snakes through lush tropical forests and along the bay. This road has some narrow points and tight turns, so drive carefully!
If you are looking to relocate to the Big Island, contact Hawaii Moves today. Dial 1-800-735-2100 for more information.