The Kama'aina Inn is a hotel located in the heart of Hilo on the Big Island. This Hilo hotel has six guestrooms plus an owner's residential quarters. Each guestroom has a full bath and the owner's residential quarters has 1.5 baths as well as a private enclosed carport.
The structure was rebuilt in 2003 from the foundation up with an AIA architect. All wood was replaced with wolmanized (termite proof) wood and a new galvanized roof was built.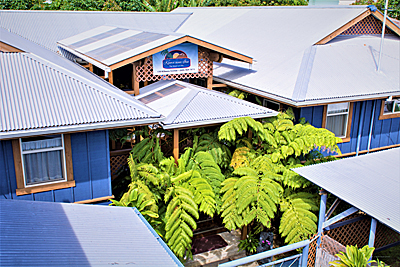 Two sets of gates separate the inn from the street and serve as the access point for inn guests which lead to a tranquil common area. There is a 3-car garage on the street with steel accordion gates with locked access. Motion detector lights and a security camera are along the sidewalk.
The location is truly in the heart of downtown Hilo. The Hilo Farmers Market and Mo'oheau Bandstand are only one block away; a KTA grocery store is across the street as well as a wide array of quality bakeries, restaurants, and gift shops that surround the property. Street parking is free and readily available.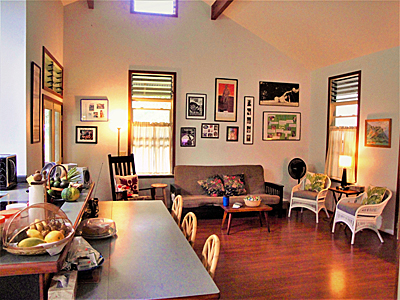 This property has a long history as a hotel. Since 1916, it has been the Hawaii Hotel, Kilauea Hotel, Old Hawaii Hotel, D&S BNB, and now the Kama'aina Inn.
The ohana (family) at Kama'aina Inn value the kama'aina (local) mentality and lifestyle. With the property and business comes the kuleana (responsibility) to respect the community and taking responsibility for your role in it. For an understanding of what this means, please read the highly-regarded reviews on the website for the property on www.kamaainainn.com, as well as Airbnb, Facebook, and Trip Advisor.
This Hilo property is priced to sell at $977,000.
For more information about this property or to schedule a showing, please see listing detail page in the Big Island MLS – 601789.