The price of homes throughout the U.S. are reaching all-time highs and it's causing concern over another "boom-and-bust" incident like we experienced about ten years ago. However, as we look at residential real estate today, what is certain in comparison to the last lengthy run of price increases is that the lending requirements now are much stronger than they were before. Earnings must be verified, a feasible amount of money must be paid toward the home before the purchase, and a stricter loan approval process in in place to avert a repeat performance of the Great Recession.
The economy, overall, is also in better shape than it was a decade ago in addition to a strong base upon which real estate transactions are conducted. There is a gain in job availability, unemployment is relatively low, and workers have more confidence in their wages and the potential for increases. Despite the continued inventory shortage in much of the country, optimism remains high for a successful summer for buying and selling homes.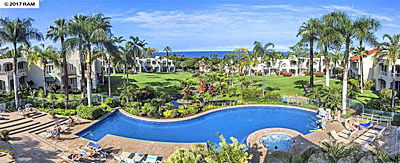 The following Maui real estate data is compared to May 2016:
New listings increased 3.2 percent for Single Family Homes and 16.2 percent for Condos. Pending sales increased 16.3 percent for Single Family Homes and 33.3 percent for Condos. Meanwhile, inventory decreased 12.1 percent for Single Family Homes and 21.5 percent for Condos.
Single Family Homes median sales price increased 12.4 percent to $700,000 while Condos increased 13.5 percent to $479,000. Days on Market decreased 20.5 percent for Single Family Homes and 5.8 percent for Condos. Months supply of inventory decreased 13.6 percent for Single Family Homes and 29.3 percent for Condos.
If you're interested about condos in buying or selling a home on Maui, contact our knowledgeable agents at (800) 735-2100 or c21allislands@hawaiimoves.com.
CHECK OUT WHAT IS AVAILABLE MAUI REAL ESTATE
Maui Homes For Sale – $700,000 and Below
Maui Homes For Sale – $700,000 and Up
Maui Condos For Sale – $479,000 and Below
Maui Condos For Sale – $479,000 and Up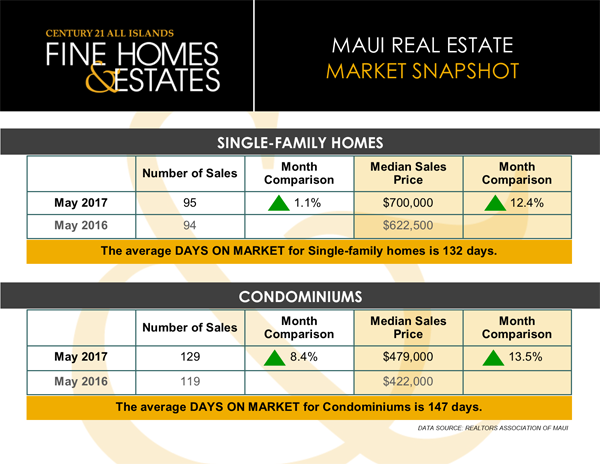 Data Source: Realtors Association of Maui