Below is a snapshot of the March 2018 Oahu real estate market compared to March 2017.
The number of single-family homes sales was 305. That which is pretty comparable with only a 1.3% decrease from the 309 homes sold last March.  For the first quarter the change in homes sold was only a 0.4% decrease.   Again we are seeing a uptick in the median price moving from $752,000 last March to $760,000 for March 2018.  Year-to-date March price has increased 2.0% from $750,000 to $765,000.  The median Days on Market was 14 days.
The number of sales for condos in March decreased slightly to 485 which is a 2.0% decrease compared to 495 last year. For the first quarter of 2018 the number of condos sold increased 0.7% to 1,244 from 1,235 the prior year.  The median sales price increase was the big news, increasing 8.8% from $400,000 in March of 2017 to $435,000 in March of 2018. Over all the first quarter 2018 median condo prices increased 9.0% from $390,000 last year to $425,000 this year. Increase in the number of luxury condo sales in the Ala Moana/Kakaako area is listed as the primary cause of the increase.  The average Days on Market was 16 days.
Check out these Oahu real estate for sale: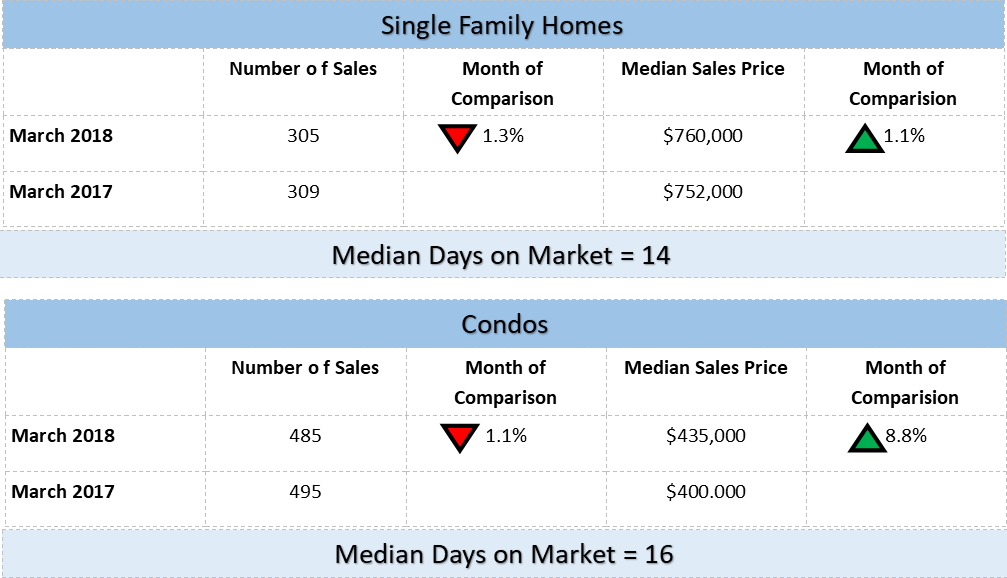 Data Source: Honolulu Board of REALTORS®