Hilo Bay Big Island Home has Amazing Views of Bay and Hillsides
From Hilo Town, it's about 5 minutes to the turn-off from Highway 19. From there, you'll pass through small Puaka'a, then farms and large homesteads while moving up the deep, east-facing valley roughly 1.2 miles until reaching the lava rock gateway and the acreage. This Hilo Bay Big Island Home sits on a gently sloping open land and points east which has in its breadth, a daily show of a magnificent sunrise.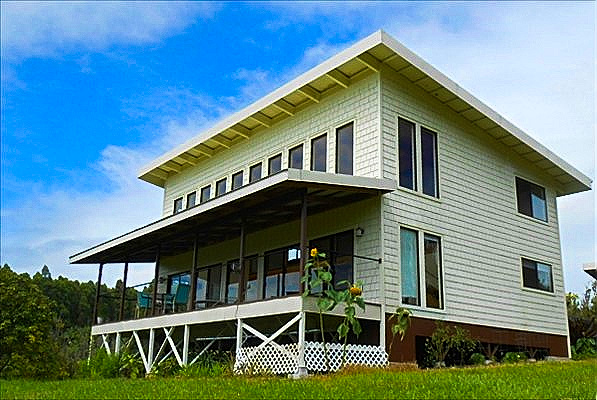 This Big Island home with stunning Hilo Bay view is surrounded by trees and plants such as mango, citrus, avocado, rambutan, coffee, macadamia, banana as well as vegetable gardens; birdsongs and stream sounds make the place peaceful and serene.

Perfectly situated, this home draws in views of the bay and surrounding hillsides from almost every room. This Hilo Bay Big Island Home draws you in with its high ceiling of warm wood, walls of windows and natural light. The quality of light filtering in allows the bedroom to double as a perfect studio. Up the stairs to the loft is a special birds-eye glimpse of architectural details throughout the house. And, running the full length of the home off the main level, the lanai is a perfect spot to enjoy a morning cup of coffee.
See listing detail page for more information about this Big Island Real Estate – MLS 275059.