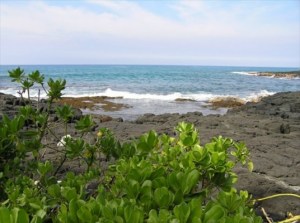 With summer just around the corner, hundreds of thousands of surfers arrive with just one question on their minds; where are the best big island surfing spots? Fortunately, Hawaii Moves has gathered some of the best surf spots on the big island just for you. With so many to choose from, your only problem will be which one to pick!
Hapuna Beach
One of the best big island surfing spots is Hapuna Beach. Hapuna has a deserved reputation as one of the world's greatest surf locations. Following the Kohala Coast, Hapuna is about a half-mile long and 200 feet across at its widest point. Conveniently located near the Hapuna State Park and anchored by two of Hawaii's best resorts, Hapuna should be high the list of any surfing aficionados.
Kua Bay Beach
In the mood for the crystal clear blue water? Head over to Kua Bay Beach!
Known for its powerful waves and clear waters, Kua Bay sits just off Highway 18 at the 88th Mile marker. What was once a hidden gem has been made more accessible with a recently paved road. With picnic facilities and white sand, this beautiful beach is a must see. If you happen to stop by in the winter months, be on the lookout for pods of Humpback whales! With all this and more to offer, Kua Bay is truly one of the best big island surf spots.
Makalawena Beach
For those willing to make the trek, Makalawena beach is a hidden gem that will take your breath away. Accessible via Kekaha State Park (after a 20-30 minute walk), this gorgeous white sand beach is one of the most secluded on the islands. Enjoy pristine white sand beaches and perfect conditions for both body or board surfing. Just remember to leave the beach the way you found it!
No matter which beach you choose, you are guaranteed to have the best big island surfing experience of your life. And remember….Huli pau! For more information about our services or the best big island surfing spots, contact Hawaii Moves today at 1-800-735-2100.