According to the resales figures recently released by the Honolulu Board of REALTORS®, the Oahu median home prices and sales for existing single-family houses and condominiums held steady in March.
The given statistics analysis conducted by the Board, using data collected from its computerized Multiple Listing Service (MLS) system are: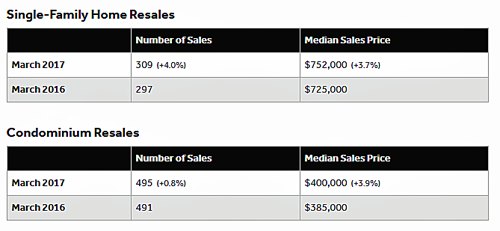 The number of single-family houses sold in March 2017 is 309. That is a 4% increase compared to 297 of the same month in 2016. The median price paid for single-family houses increased by 3.7% to $752,000 from $725,000 the same time last year. Meanwhile, condominium sales gained 0.8% from March 2016 – 491 to 495 in March 2017. Condos median price raised to 3.9% to $400,000 in March compared to $385,000 of the same month last year.
Sales closed at a quicker pace in March 2017 compared to March 2016 for both single-family homes and condominiums according to the Days on Market indicator. Single-family houses average days on market is 16 days, down from 18 days and condominiums average days on market is 15 days, down from 19 days.
"Oahu median home prices and sales volume are holding steady, and properties are selling briskly, as indicated by the relatively short days on market," said Sue Ann Lee, president of the Honolulu Board of REALTORS®. "The increase in pending sales shows that there's continued demand for housing at all price points. Additionally, with the more than 37 percent increase in inventory for single-family houses and 27 percent increase for condominiums from last year, and the still historically low mortgage interest rates, potential buyers have options for their new home."
If you're in the market to purchase a home or thinking about selling your property, contact our knowledgeable agents for a free, no obligation consultation: (800) 735-2100 or c21allislands@hawaiimoves.com.